Here at Harrods, we currently house more celebrity chefs, and exclusive dining brands than any other location in the UK. Across our front and back of house teams, we drive ourselves and inspire others to always push for more and to create moments of magic for our customers. We constantly look to push the boundaries within culinary experiences and are always on the look out for the very best talent to join our leading chef-led restaurants and world-famous food hall destinations in our iconic department store in Knightsbridge.
We're looking for people with a passion for food to join our family working with the best people, ingredients, and techniques. You will be part of a team where creativity, expertise and talent is encouraged celebrated daily.
Our Front of House team provide world class service in all of our onsite restaurants. They are the first touch point with our customers and go above and beyond to meet high expectations. Whether you want to work in fine dining or a burger bar, we have roles that will suit your experience and background across waiters and waitresses, hosts, operations and management.
We work hard to ensure that you'll always have a healthy work/life balance unlike anywhere you've worked before. Our teams work within the store opening hours and have access to the same benefits enjoyed by our retail colleagues. We are always looking to develop our teams, if you're passionate about food and providing the best service you can. there are always opportunities to progress at Harrods.
Meet the Team
Christian Black is our Group Head of Business Development for Harrods Restaurants and Bars, leading our Sales, Restaurant Events and Reservations Teams.
"We're all very passionate hospitality professionals who enjoy providing excellent service and working with the best talent in the industry. We work closely to ensure all of our clients have an unforgettable dining experience at the Harrods global restaurant collection.
We look after the entire guest journey, whether celebrating a birthday afternoon tea in Tiffany Blue Box Café or enjoying a corporate fine dining event in the stunning Studio Frantzen private dining room, we love the variety of culinary experiences we offer at Harrods.
It's an exciting time to join as we continue our mission to create a globally recognised dining destination in Harrods. We have many exciting new openings planned this year and beyond, so please join us on our journey."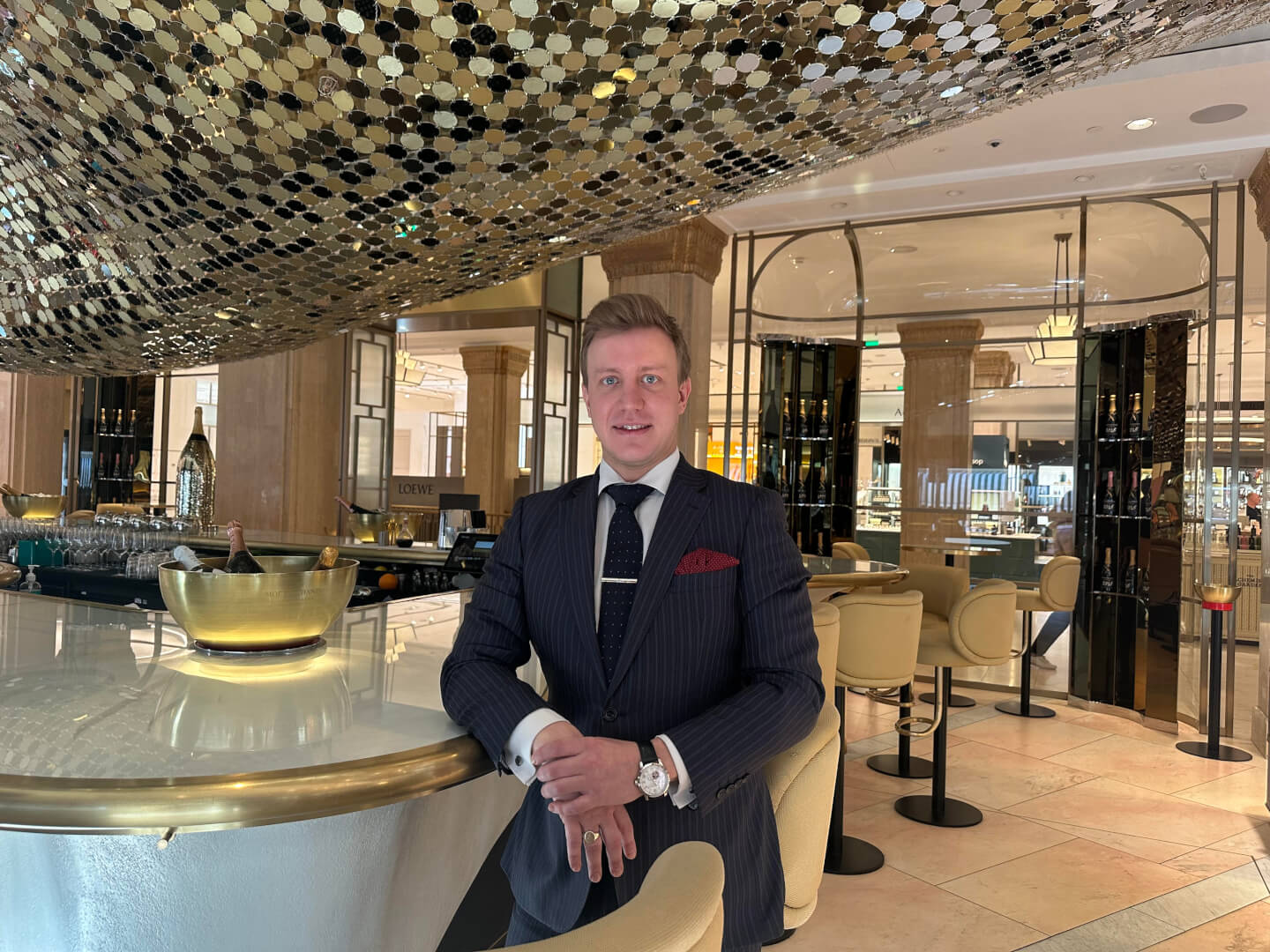 Studio Frantzén
Fusing together Björn Frantzén's critically acclaimed Nordic gastronomy with Asian influences, at the very top of Harrods, – all set in a luxurious and contemporary interpretation of Scandinavian design.
The partnership between Frantzén Group and Harrods is a monumental milestone in Harrods restaurant agenda. We are bringing the gastronomy of Studio Frantzén to the UK for the first time while unveiling a state-of-the-art flagship restaurant within our Knightsbridge store.