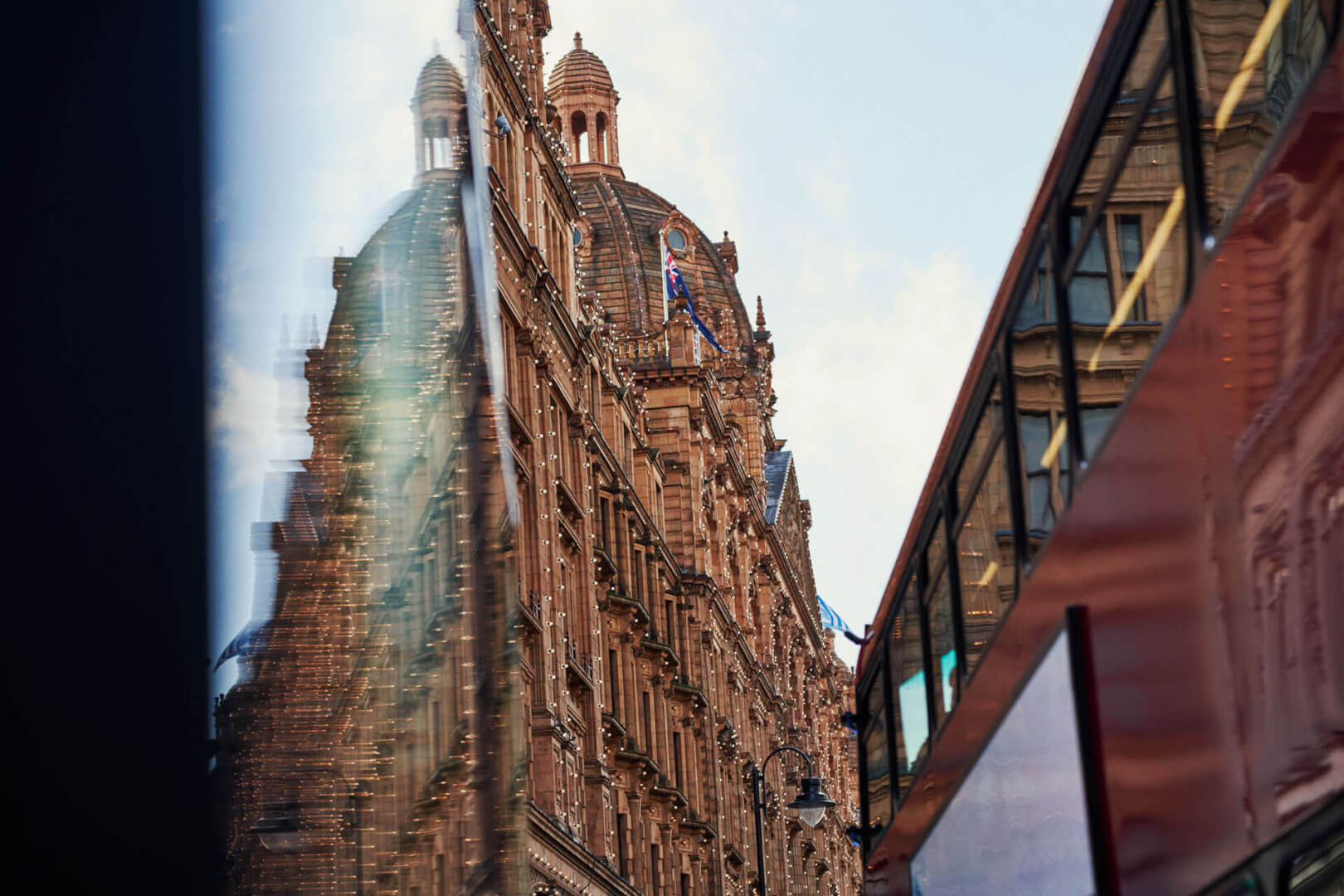 Forever Green & Gold: Raj Assanand
After an incredible 45+ years with Harrods, Business Development Director Raj Assanand has made the personal decision to retire from Harrods in April. Raj initially arrived at Harrods in 1975 on a three-month contract and over his long tenure held many positions, from cleaning floors in Trevor Square to being one of the earliest members of the buying team to travel to China until finally becoming Harrods Ltd Board Director.

We caught up with him to find out about his wonderful career story.
What was your first impression of Harrods?
Well, I had heard of Harrods and seen it, but I didn't know much about the store. I didn't plan to get a job at Harrods, it was a "needs must" at the time. I walked down the Brompton Road from Earls Court to Harrods asking if there were any temporary roles available. I interviewed at Harrods immediately and was asked to start the following week. I was hoping to complete a textile apprenticeship in Germany but that fell through, and that's how my career at Harrods started; it was a real sliding door and what next moment.


Tell us a little about what it was like when you first joined.
I started on the second floor; at the time it was called the Linen Department. Names of areas were category-led (i.e., Linen Department, Carpet Department, Lighting Department), rather than driven by brands.

Harrods was the leading department store very much like it is today in terms of stature and certainly eccentricity.

Quite early on I realised that every conceivable skillset is found across the business. I completed the role of a Trainee, which comprised of around 10 placements in 18 months, including the Carpet Factory, and Country Dispatch – still to this day I can wrap the perfect parcel.


You have experienced many different roles at Harrods. Which have you enjoyed the most?
I really enjoyed my time as a Buyer. Buyers were also responsible for the day to day running of the department, we used to have a desk at the back of the stockroom.

As a Buyer, you would go on many trips abroad, which were great for generating ideas and enhancing our products. You might re-make something in a different colour, size, or style, when it arrived six months later on the shop floor, you got a sense of satisfaction – or dissatisfaction if your item wasn't bought. If you got seven out of ten items right, then you were doing a good job.

I was one of the earlier Buyers to travel to China, which was exciting. The first store promotions I ever did was a French Promotion followed by Italy.

When we were on these trips it was more than just merchandise. For the French promotion, we began buying in 1984, and the promotion took place in 1985. The Central Hall was transformed into a Provençale-style village, with an experience and a bit of theatre around the event; olive oil was poured from barrels into glass jars. It was special in terms of the look of the event, and the store was transformed. Harrods was the first to do something like this; we were always trying something new as we do today. We have always been relevant.
For example, we were the first place to sell Häagen Daz in the UK; a delivery would arrive every Friday from America and would be sold out by Saturday, this is common now, but at that time, no-one else was doing that. Harrods was and still is the first at bringing excitement and newness to market.

From Buyer onwards, I enjoyed all my roles, although challenging at times. There were certainly more ups than downs.

Who has been part of your remarkable career journey?
Lots of colleagues and many great mentors. Roy Cox really helped me find my niche. He was my first boss, and as he progressed, I progressed too. When Roy retired as a Director, I stepped up to take his place. Also, all the business owners over the years have always played a big part in my career for which I am truly grateful. And our current Managing Director Michael Ward has been very influential in the way I think and perceive the retail world.

What makes Harrods unique?
The aura comes from the building; when you come off the tube, or when you travel down Brompton Road, you see Harrods, and it is a palace. The building is an iconic landmark – it's magical. When you join Harrods, you become part of a family. It's amazing how one store can generate so much emotion. The back of house is equally as interesting as the front of house, there are hidden gems.

We are great in a crisis – however small or big. Our people can respond to anything. It's the belief they have in delivering the Art of the Possible that makes us unique.


What is your favourite part of the store?
The Food Halls are our history and how we started. All parts of the Food Halls are very unique and inspiring. The sense of occasion and emotion generated by our Food Halls is quite extraordinary. All your senses are catered for.


What kept you at Harrods for such a long time?
If you are going to stay in retail, where else would you go? Harrods is the most famous department store in the world and rightly so.

I have had many roles here and always had an opportunity to grow. I've always felt a special bond and affinity with Harrods. The business has given me so much both professionally and personally and I am very grateful. The opportunities to grow and work with such talented people whose warmth and generosity has always and still to this day continues to amaze me. And of course, our brilliant customers and working with the best merchandise in the world.


Any career advice for anyone reading?
Patience, humility, luck, and desire for knowledge. The more knowledge and expertise you have the more comfortable you will feel. It is like driving a car for the first time, you need your lessons first. Once you have more lessons you can start to see the progress, you get better at it and ultimately you will never forget how to drive.


What is your proudest moment from working at Harrods?
So many proud moments over 45 years.

One that will always stay with me is when I was made Director in 1994, both my parents were alive to see it – that was a really special moment.


What have you got planned for retirement?
I would love to go on a few trips once we can. I am hoping to put my experience to good use, supporting organisations in the charity and non-profit sectors. I might be back here on our Alumni to tell you what I am up to.

Any final words?
It has been a privilege to have worked and grown with such an iconic business, which has played such an important role in my life. If I had the last 45 years again, I would not change a thing. From the bottom of my heart, I would like to thank all my colleagues, past and present, for creating all the special memories I will take with me when I retire. I hope we can stay in touch through our Harrods Alumni network, Forever Green & Gold.
Find out more about Harrods Alumni, Forever Green & Gold here.
List #1
Discover more about us

Straight from The Studio
Summary
Hello! My name is Kim Stuart, I am the Post Production Lead at the Harrods Studio and I have worked at Harrods for 4.5 years. Starting as an Image Coordinator and working my way up
Read more

Hello from Phil
Summary
Hi there, my name is Philip Khoury and I work as the Head Pastry Chef at Harrods. I moved to London from Australia and joined Harrods five years ago. I was attracted to the size a
Read more

Harrods Management Programme (HMP)
Summary
Harrods Management Programme (HMP) "To support colleagues with an aspiration to progress into management roles, we run The Harrods Management Programme (HMP). This is a four-month manag
Read more

We Take Pride
Summary
We Take Pride We're taking a moment to acknowledge the incredible Pride Month our LGBTQI+ network organised. From Pride in Food, Fashion, and Beauty to our partnerships with L'Oréal, R
Read more

This Is Me: Anxiety Edition
Summary
This Is Me: Anxiety Six of our colleagues have shown remarkable bravery by sharing their personal journey with anxiety. Take a look at each story below. Anita "My name is Anita Ub
Read more

Reverse Mentoring
Summary
Reverse Mentoring Last month we wrapped our first-ever reverse mentoring programme: 'Listen'. The purpose of this six-month programme was to connect colleagues, so they could spend time w
Read more


Mother's Day
Summary
I have many roles in my life. I'm a Daughter, I am a Sister, a friend, a work colleague and a partner, but most of all I am a Mum and I couldn't be prouder." Wishing all Mum's and Mother f
Read more


This Is Me
Summary
A Series That Celebrates Being Uniquely You Uniquely You, #TogetherHarrods is all about celebrating our people; their diversity, and the strength that comes from who they are. We're building a
Read more


International Women's Day 2023
Summary
#EmbraceEquity This year for International Women's Day, we're shining a light on women from different roles within Harrods. Each share a little bit about their role, and what it means to th
Read more


Mr & Mrs Thatcham
Summary
Mr & Mrs Thatcham Happy Valentine's Day "My wife and I have been together for 15 years in May. We both work in Distribution at our TVDC site in Thatcham. I encouraged her to join Ha
Read more
View all
List #1
Recently viewed jobs